Garden Room / Cottage
Garden Rooms and Cottages each consisting of king size or twin bedded room, bathroom (the majority having shower only, no bath) and patio or balcony.  These rooms/cottages are garden view and can accommodate two adults.  There are also four air-conditioned single Garden Rooms which can only accommodate one adult.  They are smaller than the double rooms and comprise of a queen bed, bathroom and terrace or balcony.
Superior / Luxury Junior Suite
Junior Suite style accommodation consisting of a large king size or twin bedded room with sitting area within bedroom, luxurious bathroom with separate shower and tub and a large patio or balcony. These Suites can accommodate two adults. Superior Junior Suites are located in the gardens and have a sofa bed that can accommodate one child under 12 years.  Luxury Junior Suites are located in the front half of the gardens leading towards the sea. Some are sea view while the majority are pool view.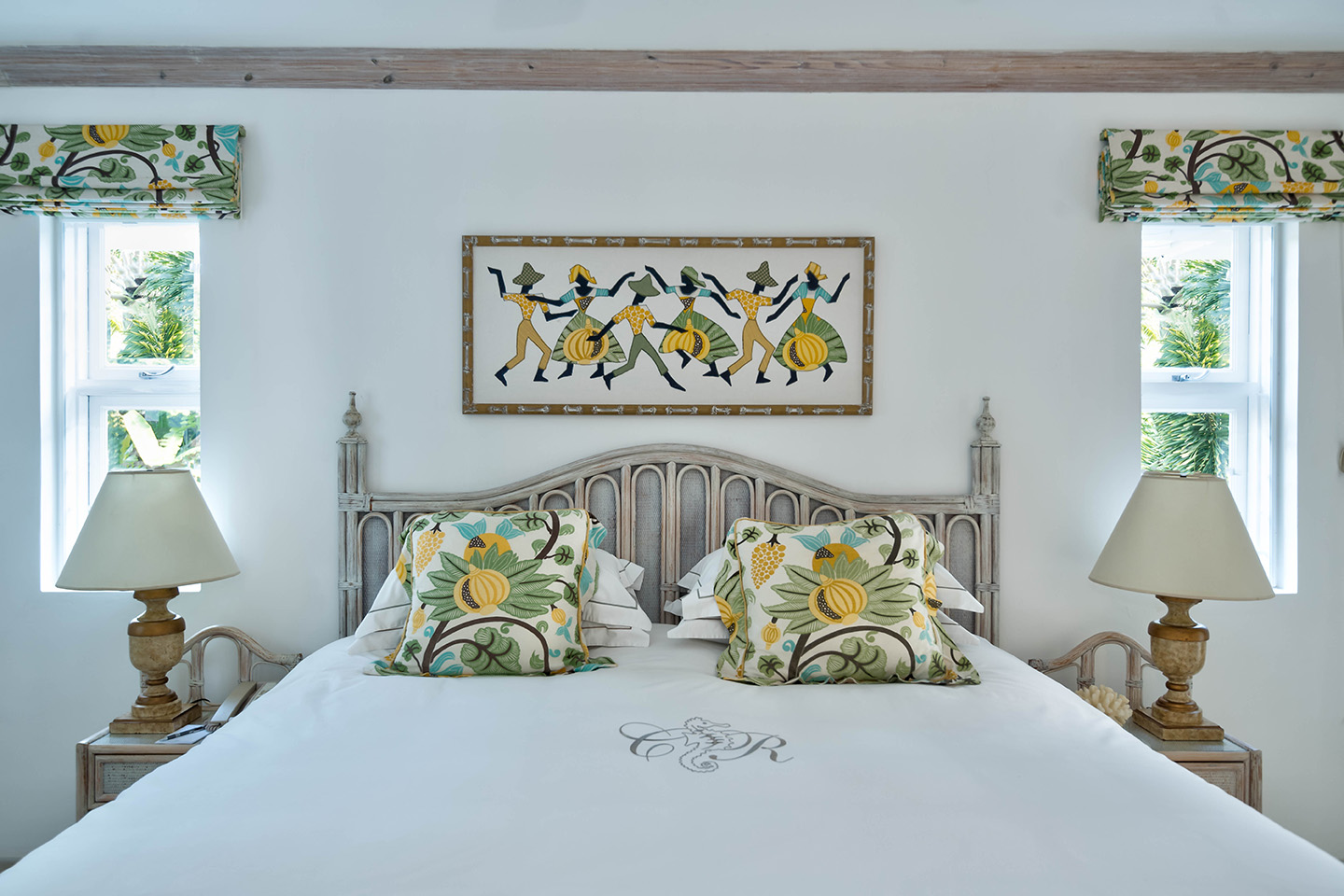 Luxury Cottage / Suite
Cottages on the ground floor or suites on the first floor consisting of a king or twin bedded room, dressing area, en-suite bathroom with separate shower and tub, air-conditioned living room with sofa bed, large patio and private plunge pool. These Cottages can accommodate either three adults or two adults and two children. They are located in the front half of the gardens leading towards the sea. The majority are garden view.
Luxury Plantation Suite
The five Luxury Plantation Suites consist of a bedroom with four poster or canopied bed, spacious living room with TV, dressing area and a large bathroom with a walk-in-shower and separate tub, all air-conditioned.  A large covered terrace is complete with complimentary starter pack open sundeck and a plunge pool.  The Plantation Suites all have seaviews and can accommodate two adults.  Children under the age of 12 are not permitted.  Two suites can convert from king to twin beds, if required.
Two Bedroom Combination
Combinations available are:
Two Luxury Junior Suites
Two Luxury Cottages
Two Garden Rooms
One Superior Junior Suite and one Garden Room
One Villa
Villas
Enjoy the comfort and privacy of a villa with all the sporting facilities, amenities and entertainment of a luxury hotel. Choose from Tamarind featuring 3 doubles and 2 bathrooms or Ixora with 4 doubles, 3 bathrooms and 1 en suite shower room.
Policies
Minimum Stay Requirements
There are minimum night requirements for stays within or overlapping the following periods:
December
20 December 2021 – 05 January 2022 10 nights
For guests departing on or before 27th December there is no minimum stay requirement.
Shorter stays for Luxury Plantation Suites may be requested.
February
01 – 28 February 2022 7 nights
November
22 – 29 November 2021 5 nights
22 – 29 November 2022 5 nights
Child Policy
Children are welcome year round except 20 January – 28 February when children under the age of 12 are not accepted. No children under 5 years of age allowed in the restaurant or lounge after 7.00 p.m. Children under 16 years cannot occupy a room alone (with the exception of communicating rooms) Children under 5 years of age are not allowed in the restaurant or lounge after 7.00 p.m.
Closure Dates
The hotel will not close in 2021, however it will close for annual refurbishment and staff holidays during the period 20 August – 01 October 2022.
Dress Code
Our dress code is elegantly casual.  At breakfast and lunch, we ask that ladies wear cover-ups in the Restaurant and gentlemen wear short sleeves and no hats.  After 7.00 p.m. gentlemen are required to wear long trousers in the Restaurant and Cocktail Lounge.  Shorts are permitted on The Reef Terrace only.  On Christmas night and New Year's Eve the dress code is glamorous for ladies and smart for gentlemen, however jackets are not required. To make a dinner reservation, please contact us here.
Room Rate Levy
There is a Government Room Rate Levy of US $17.68 (Bds. $35.00) daily.  The levy is paid locally prior to departure and appears as a nightly charge on  your account.
Cancellation and No Show Policy
Cancellations due to specific COVID-19 related reasons (proven positive tests in family/lockdown) we will waive any notice period of cancellation.
For cancellations due to non-COVID-19 related reasons we will revert to our regular cancellation policy which is:
Cancellations within 30 days of arrival, 50% of the total room rate will be held.
In the case of early check outs, 50% of the remaining stay will be applied.
Deposits can be held towards a future stay and should you be entitled to have the cancellation policy waived, we can hold your deposit towards a future stay.
No Shows 100% penalty will apply.  Therefore the remaining 50% room rate will be charged to your credit card.
Agreement to Hold Rates
For reservations that must be postponed, we will hold the quoted rate for re-bookings up to 01 April 2022, during the same rate period.  For example, if you postpone a reservation for March 2021, you may visit during the rate period 05 January – 01 April 2022, at the same rate.  If you wish to re-book outside of the same rate/time period, then the regular 2021/22 rates will apply.
Special Offers
Any special offer on the cancelled booking would only be applicable to the original offer rate/time period, subject to availability.  For example, a May 2021 offer would only be applicable in May 2022.
Deposit Policy
For confirmation of bookings, an advance deposit of 50% of the booking is required.  This can be paid by Wire Transfer, Credit Card or International Debit Card.
COVID-19 Travel Insurance
We recommend you take out travel insurance to include COVID-19 coverage.
We will review these policies periodically and will advise in advance of any change.
COVID-19 Hotel Disclaimer
The following indemnifying paragraph is part of all guests' reservation contract with Coral Reef Club.
I acknowledge that COVID-19 is a highly contagious disease and can result in serious illness, injury and death and I accept that there is an inherent risk of exposure to COVID-19 anywhere people are, or have been, present. I further agree that, save and except for where I can prove that I have contracted COVID-19 as a result of a particular negligent act or particular negligent omission of  Coral Reef Club, I will release, indemnify and hold harmless Coral Reef Club, and their respective parent corporations, affiliates, subsidiaries, insurers, directors, officers, employees, successors, assigns, servants, agents and representatives, against any claims and/or damages whatsoever, including legal fees relating to any infection, transmission, health condition influenced or impacted, or complication by COVID-19.